Anxiety Hypnotherapist-Mark Stubbles
Mark Stubbles, an anxiety hypnotherapist, is also one of our collaborators.
Here is some information about him: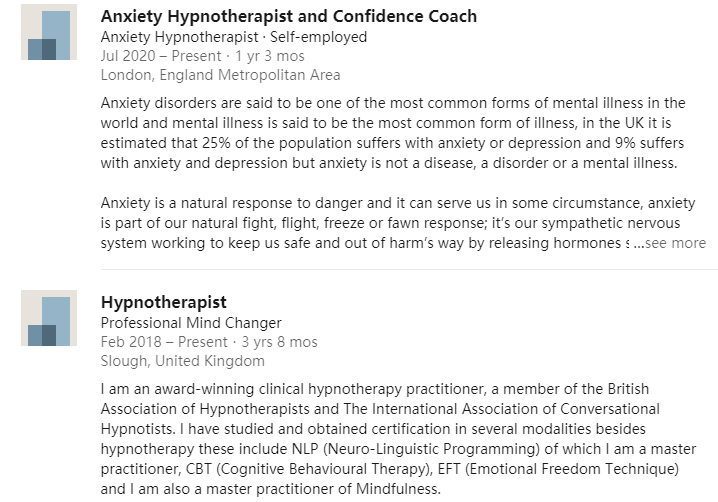 Here is his self-introduction:
I once suffered with severe confidence and anxiety issues these caused me all kinds of trouble in my work and social life. I formed unhealthy relationships. I was abused and abusive. I grew up in a dysfunctional family, surrounded by people with low self-esteem, confidence and personality disorders. I witnessed and suffered what would be considered narcissistic abuse from all sides, this normalised dysfunctional behaviour for me, it caused me to suffer low self-esteem and low confidence, I developed a personality disorder of my own.

I had a narcissistic tendencies, used to put other people down to try and elevate myself, I couldn't keep a relationship or a job very long, I had no respect for myself or others, I put up with being abused, financially, mentally, emotionally and even physically.

I decided enough was enough, I didn't want to be anxious or obnoxious anymore. I didn't want to end up like the people I had been raised by so I healed my inner child, I removed my warped beliefs, I stopped finding needy women attractive, I stopped feeling the need to wind people up until they wanted to fight me. I now have inner peace and functional relationships with lots of good friends, I am no longer reliant on any one for emotional support and no one is reliant on me. I began studying hypnosis, NLP, CBT, EFT, life coaching and mindfulness I have been able to use these techniques to heal myself. I use these same techniques with my clients to help them let go of anxiety, set healthy boundaries, build confidence and deeper connections.
Contact Information:markstubbles@gmail.com(Please do not spam to her, If you need help, please mention your purpose, also, please mention "From Sandaki" on the subject.)
Website: anxietyhypnotherapist.org
Charge Fees: $170/h
Click here to know more information about him: Linkedin