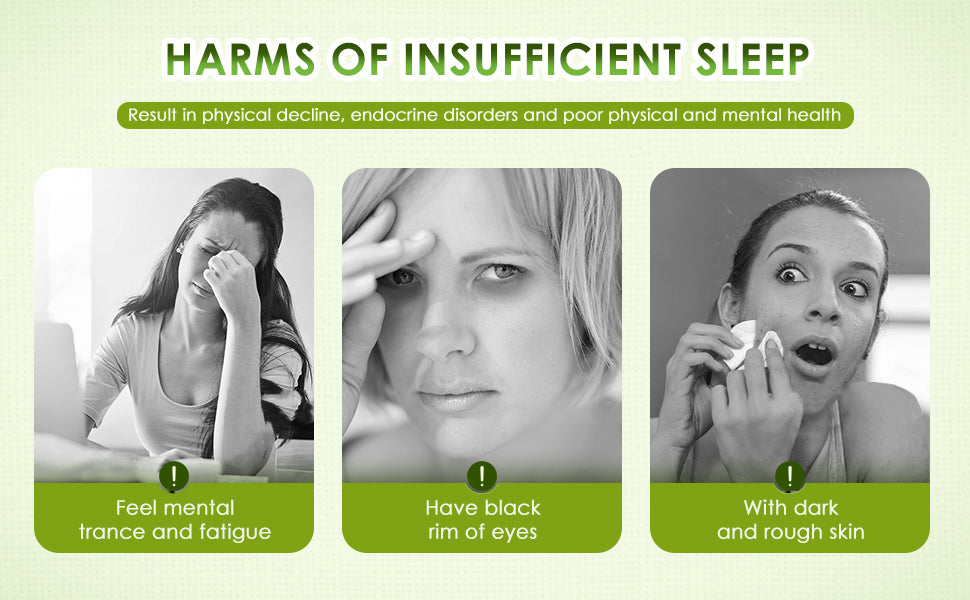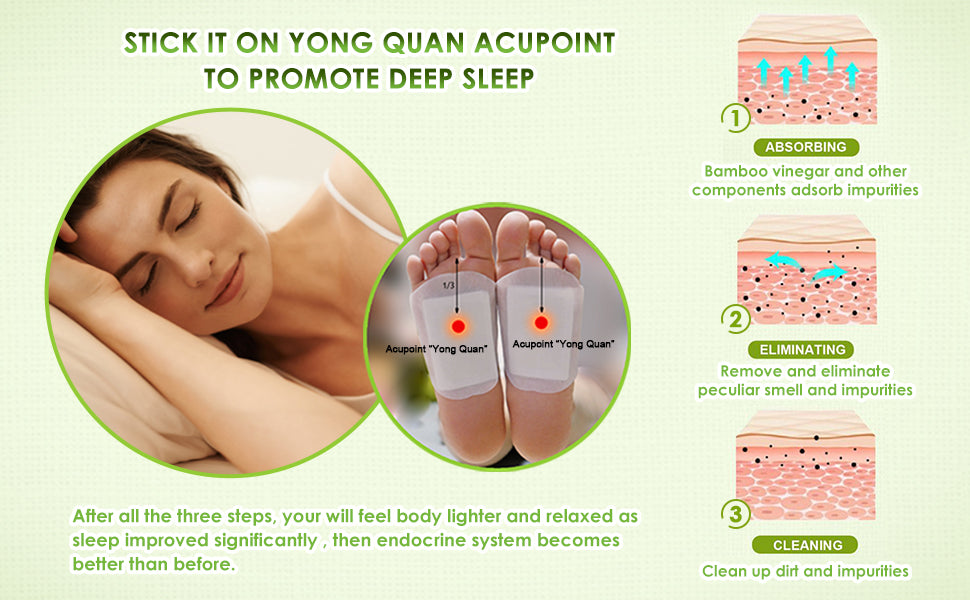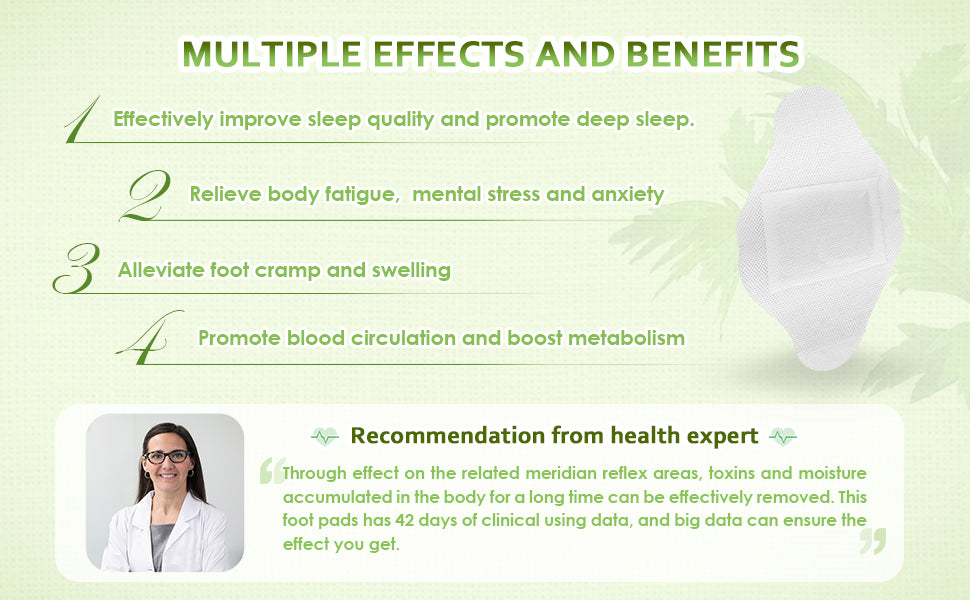 Details:
1. APPLICATION: The foot pads are suitable for sub-health groups and those anxious people who generate anxiety due to much pressure from work and life. It will help alleviate their anxiety and improve sleep quality to preserve mental and physical health.
2. NEW UPGRADED DESIGN: The shape design of the foot care patch with two wings is more fitting for the shape of feet shape of the human body and also not easy to fall off, which gives you a more comfortable user experience. It adopts two in one, helping you to use it easily.
3. FUNCTIONS AND BENEFITS: The foot pads are especially helpful for improving sleep quality, relieving fatigue and stress, boosting metabolism, promote blood circulation, detoxifying, removing moisture and toxins in your body, and revitalizing.
4. NATURAL INGREDIENTS: The main ingredients of Ginger Foot Pads include ginger powder, bamboo vinegar, wood acid extract, tourmaline, vitamin C, wormwood leaf, and vitamin C.
All these ingredients we use are pure natural and made of premium materials, so you can be reassured that they won't bring any side effects.
5. HIGH-QUALITY MEDICINE GRADE NON-WOVEN FABRIC POWDER BAG: We use a high-quality medicine-grade non-woven fabric powder bag that is hygienic and environment-friendly. The non-woven fabric is sanitary and with good air permeability, thus very friendly for people who are skin sensitive. Just don't worry about anaphylaxis when using it.
Description:
Contemporary people feel pressure from all aspects of daily life. Do you feel annoyed because of high work pressure? Are you tired because of managing complex interpersonal relationships?
Do you feel confused because of the unknown future? Do you feel bored because of trivial things in life? All kinds of similar negative emotions make us gradually anxious day and night.
If you are also troubled by anxiety, just try to use your foot pads, then enjoy your relaxing time and peace in your mind.
All-natural and organic ingredients products, with wood acid extract, bamboo vinegar extract, tourmaline, vitamin C, ginger powder, wormwood leaf, vitamin C.
The foot pads are especially suitable for sub-health groups, smokers, hangovers and long-time workers, and anxious people who are under great pressure.
We adopt premium natural and organic ingredients just for consumers' health, these are all extracted from natural ingredients and not harmful for the human body. So don't worry about the side effects.
USAGE:
1. Clean and dry your feet.
2. Tear off the adhesive tape paper respectively.
3. Align the foot pad with the corresponding acupoint on the sole and paste it steadily.
4. 6-8 hours later, tear off the foot pad powder package, and wash the moisture and mucus remaining on the skin with clean water. 
 BENEFITS:
1. Effectively shorten your sleep incubation time, improve sleep quality and promote deep sleep.
2. Relieve body fatigue, mental stress, and anxiety, relax heart and body.
3. Alleviate foot cramp and swelling.
4. Promote blood circulation and boost metabolism, making complexion ruby and fresh.
5. Detoxify and revitalize the body.
6. Deep cleansing and remove toxins.
Returns Policy
We pride ourselves on our product quality and strict quality control but to provide you with maximum peace of mind we offer a comprehensive 30 Days Return Warranty. Defective merchandise including stains, zipper malfunction, ripped or torn fabric, poor quality material, obvious color difference to photos, and major difference between the photographed product and the product received are subject to exchange within 30 days.
Shipping
United States:
Standard shipping : 6-12 business days
Fast Shipping: 5-9 business days
Express shipping : 3-5 business days
United Kingdom:
Fast Shipping: 6-8 business days
Australia:
Fast Shipping: 6-12 business days
Express shipping : 3-5 business days
Canada:
Standard shipping : 20-40 business days
Fast Shipping: 7-10 business days
*Please note: Total Delivery Time = Processing Time + Shipping Time
-Best prices: 100% online-based we have significantly less costs than traditional companies.
-100% Secure Payments. We accept Paypal and all major credit cards.
-Outstanding customer service. Happy customers are our biggest asset.
-Hassle returns: Not happy? Easily exchange or return it for a refund.

Must Purchase
I'm a Truck driver and over the last 5 years I lost my legs and get numb sensation tingling feeling when I try and fall asleep.. Put 2 on each foot, (one one bottom one on top of the foot) woke up like a teenager again ready to play Basketball with Agility once again in Life... HANDS DOWN.. A MUST PURCHASE.. siskel and ebert gives it 2 Thumbs Up
This foot pads work great
This foot pads work great. They are so easy to use, stick them on your feet, go to sleep, wake up, peel off and see the proof. The most important is obviously working, make my feel more energetic . Good product. I will recommend to my friend!
It works, not only as a detox, but also improves health.
Surprising. It's amazing to see my husband weighing about 500 lbs. His legs were cleared, his blood pressure not up, he hasn't had a headache, he hasn't been given cramps, his foot swelling was gone, he's lost weight, and he's walking much better. In my case, I feel more energized, my metabolism accelerated, I have lost weight, I are no longer getting pimples, it is not giving me headache, we are sleeping much better and most amazing of all, my gallbladder only worked at 3%. The doctor told me that I had to operate to remove it, because when i eat fiber or fat the stomach breaks down completely, until my body eliminates everything I consumed. Since I've been using the patches, that started gradually changing. It's not happening to me anymore. And I've only been using the product for 2 weeks. I really recommend it.
Incredible
I thought I would give this a try since the reviews seem to be good. Besides the ginger that I know is good for you, this is amazing. I tried it because my feet were hurting so bad, at times my foot would be so swollen that my feet started to look like canakles. I've been using the ginger oil on my knees, and that has been helping me tremendously, so why not for the feet. First off, super easy to use, the first night I used it I slept like a baby, especially being so hot lately, I drifted off and didn't toss or turn that evening... the only thing is that when you take them off, you have a bit of residual glue left on your foot. I use a bit of coconut oil to take it off and then a make-up wipe, and it takes it right off.
Really Works! At 62 years old and overweight!
Helping severe Leg Cramps and Restless Legs.
I was very skeptical but now my husband and I both are using the patches. Started with 3 nights in a roll. A few days later I fell outside and sprained my left leg trying to catch myself. I am a heavy woman. That night I started the Charlie horses that made all the veins in my leg and feet knot up. I was crying so hard I could not get any comfort. My husband rubbed my leg and foot with a muscle relaxer cream. No relief. He said let's try the patches can't hurt. It felt warm on my feet. I slept and all cramps were gone within 20 minutes. No more Charlie Horses the entire night and since 3 days ago. Just ordered more. Cut the top of my socks to loosen to cover after patches put on. So blessed and thankful for this relief.
MAGIIN 14PCS Foot Pads for Anti-Stress Relief Pure Natural Ginger Powder and Bamboo Vinegar Premium Ingredients for Foot Care