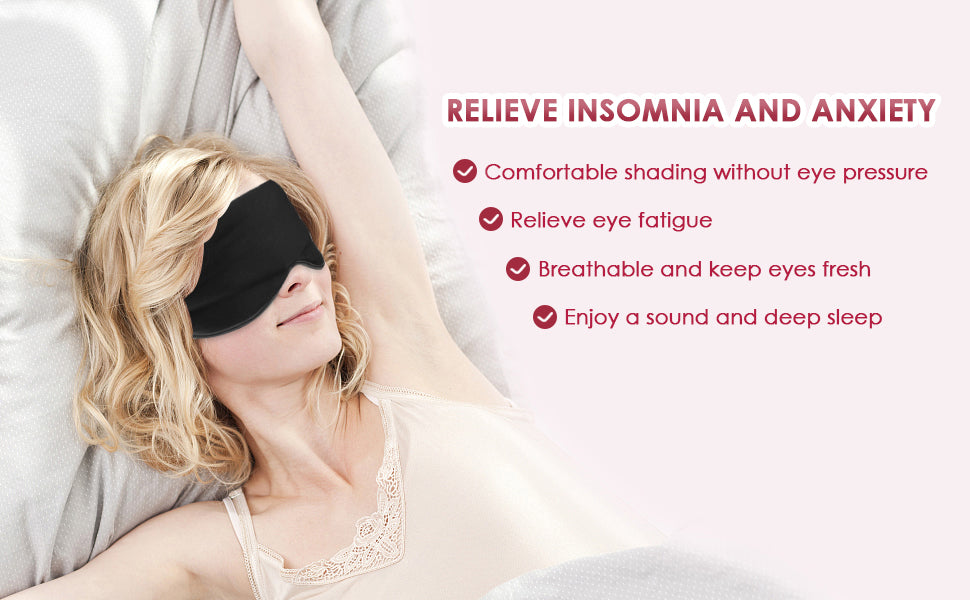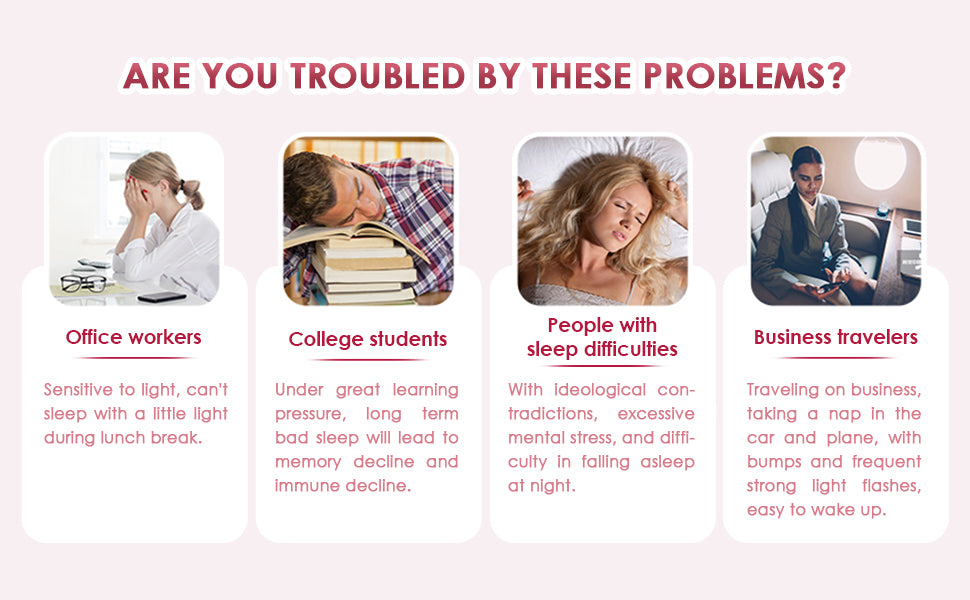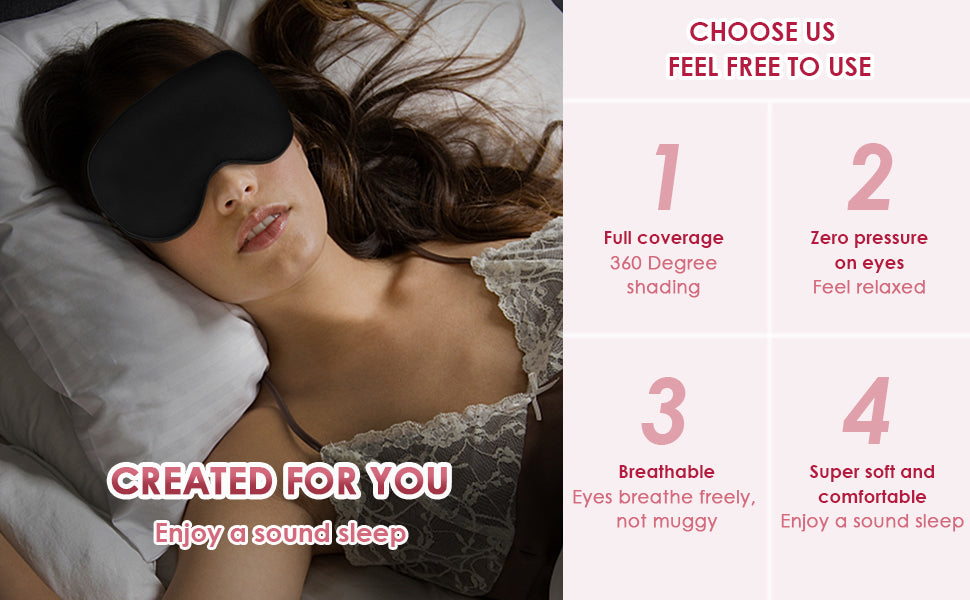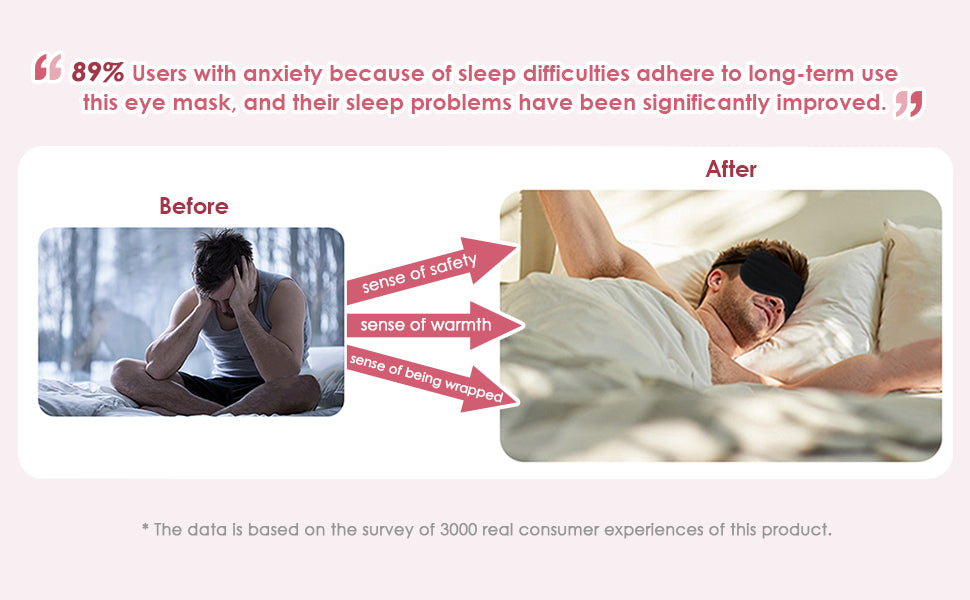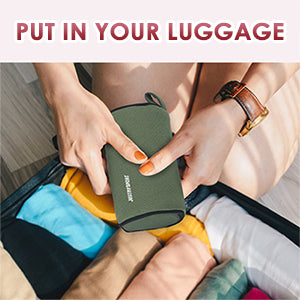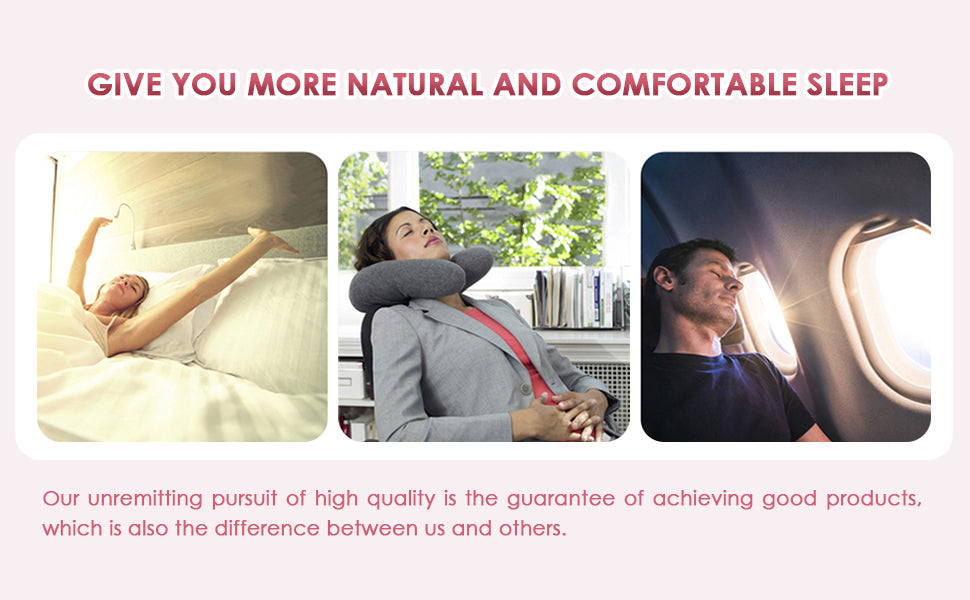 Details:

1. SUPER SOFT & COMFORTABLE MATERIAL: The eye mask is made of light and premium material, thus there is no pressure on your eyes. As soon as wearing it, you will feel a super soft and comfortable touch feeling. It is ideal for insomnia, migraine headaches, and dry-eye sufferers, also perfect for traveling to help keep you feeling rested and refreshed.
2. HIGH-QUALITY ELASTIC BAND AND buckle: The size of the eye mask can be adjusted at will, which is suitable for all different head sizes. Compared with the adjusting buckle, it can provide you with the most comfortable feeling and has zero burdens on the back of the head.
3. AVAILABLE ON BOTH SIDES FOR ALL SEASONS: One side is light and cool, and the cool particles in the fabric make you feel cool instantly. The other side has its temperature sense, and the air thermal fiber increases the comfort and warmth of use. You can choose which side to use according to your different users' needs.
4. EQUIPPED WITH STORAGE BAG: It is light and easy to carry. You can put it in the luggage when traveling and enjoy a good sleep outside as at home. The storage bag can also prevent the eye mask from wearing and keep it clean. We make different products from others with heart, just to give you a more comfortable consumption experience.
5. RELIEVE ANXIETY AND INSOMNIA: Wearing the eye mask, forget anxious and fretful emotions caused by trivial things in the day. At this moment, only enjoy your quiet night world alone. After the mood is calm, you will immediately enter a wonderful dream, and your anxiety and insomnia will be relieved naturally.
6. PERFECT SHADING BLOCKING OUT LIGHTS: It can effectively isolate the external light to create a pure dark sleep environment and atmosphere for you, meanwhile relax your eyes, effectively improve the sleep quality and alleviate the fatigue of the day.
Description:
With the fast pace of work, high pressure of life, empty spiritual world, you feel anxious and fretful caused by all kinds of troubles in the day… You originally wanted to have a good rest and wash away all of your fatigue, but couldn't fall asleep however many times you tried… Is this the problem you are facing now?
Maybe you can find the answer from this eye mask, wearing it, stay away from the noise and enjoy a wonderful sleep immediately.
The eye mask is equipped with a small storage bag, you can put the eye mask bag in the suitcase, which takes up a small space and is easy to carry on traveling. Wearing eye masks, enjoy a warm and quiet sleep as at home when traveling outside.
Based on ergonomic design, the shape design of this eye mask is reasonable and fits the nose contour, it won't fall or slide off your face and there is no light through the space near the nose.
It can effectively isolate the external light, and create a pure dark sleep environment and for you so that you can enjoy a deep sleep without any disturbing light.
You can adjust the size of the eye mask according to your head circumference at will. It is suitable for all people. We adopt a premium elastic strap and non-metal buckle which will not bring any burden on your head.
We use premium filling cotton which is soft and lightweight, brings zero burdens to your eyes, and gives you a more comfortable user experience.
The warm surface of the sleep mask is made of 100% polyester fiber, which is close to the human body's natural temperature. The vent pores guarantee their permeability.
The cool surface of the sleep mask is made of cool fabric which makes you feel cool when touching it, and it will not feel hot even if worn for a long time. Bring cool for you in the summer.
Wearing the eye mask, you will enjoy a wonderful deep sleep wherever you are and whenever you want to have a rest. It is also an excellent choice even for shift workers as well as planes, trains, buses, long car rides.
Returns Policy
We pride ourselves on our product quality and strict quality control but to provide you with maximum peace of mind we offer a comprehensive 30 Days Return Warranty. Defective merchandise including stains, zipper malfunction, ripped or torn fabric, poor quality material, obvious color difference to photos, and major difference between the photographed product and the product received are subject to exchange within 30 days.
Shipping
United States:
Standard shipping : 6-12 business days
Fast Shipping: 5-9 business days
Express shipping : 3-5 business days
United Kingdom:
Fast Shipping: 6-8 business days
Australia:
Fast Shipping: 6-12 business days
Express shipping : 3-5 business days
Canada:
Standard shipping : 20-40 business days
Fast Shipping: 7-10 business days
*Please note: Total Delivery Time = Processing Time + Shipping Time
-Best prices: 100% online-based we have significantly less costs than traditional companies.
-100% Secure Payments. We accept Paypal and all major credit cards.
-Outstanding customer service. Happy customers are our biggest asset.
-Hassle returns: Not happy? Easily exchange or return it for a refund.

Comfy!
Super comfy on your eyes for sleep. No gaps when it's on, also the adjustable bit doesn't ramble or pull your hair. Would recommend for darkness. I don't over heat with it on my face either compared to a fleece one I had previously
Will help to avoid being disturbed by light when resting
Soft feeling, and a good quantity of filling (inside). Adjustable. I am happy with the product and it helps me to sleep/rest better even when the light comes through the windows or if any lights are on. Feels comfortable on my head in all areas.
BLOCKS LIGHT, FEELS SO COMFORTABLE - DOES EXACTLY WHAT A SLEEP MASK IS SUPPOSED TO DO
I love this luxurious feeling sleep mask and have purchased 4 of them. It is extremely comfortable, blocks out all of the light and washes well. I had been purchasing those contoured type masks but this is just so much better. I won't be without one. Highly recommend!!
This mask does the job of keeping my eyes from
This mask does the job of keeping my eyes from drying out at night from the a/c and the ceiling fan.
My husband can sleep!
Husband works night shift at times. Wakes up to everything. We have a noise maker, black out curtains, the works. This is a very soft thin over-sized silk eye mask with a bra strap type adjustment. He says it is his favorite. It is simple, easy to adjust, and sturdy. Looks like it will survive hand washing. Will probably order a few of these when he destroys and/or misplaces it since he is very rough on items.
MAGIIN Comfortable & Super Soft Sleeping Mask with Adjustable Strap 2PCS Cool and Warm Pressure Free Sleeping Eye Mask for Men/Women